Every bride wants everything to be special on her "wedding day". It only comes once in life so every bride wants to make it as memorable as possible. Be it a venue or outfit, "soon to be brides", do not want to make any compromises with any aspect of their dream day? And why would they? On her dream day, it is every bride's right to demand nothing lesser than a perfection. One of the most important aspects of every wedding is outfit and jewellery. If you are one of those brides who has purchased an outfit months before your wedding but hasn't decided the jewellery then don't worry. Diamonds will be your saviour. People love to receive, wear and present diamond. As we all know that on your special day, you should sparkle and flaunt your glow in every possible way. Bride wearing diamond jewellery looks fashionable and elegant.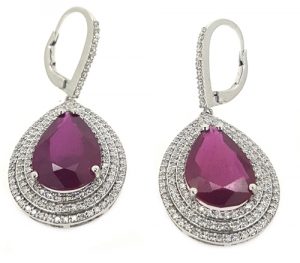 Not just a bride's choice. When it comes to giving or getting a gift, the most of us like to give and receive diamonds. If you are thinking why most of the people prefer Diamonds in Wholesale in Dubai, then you need to look below:
Diamonds are considered a symbol of longevity:The unique qualities of diamonds make them so special and valuable in the industrial sector. Those characteristics are like- longevity, durability, and of course its clarity. These qualities are transmitted to a diamond in a symbolic way, especially when one presents them as a gift. Diamond is unbreakable. Its endurance is commendable even in tremendous stress also which is one of the reasons to prefer diamond. Many of us buy engagement rings that have diamonds in it because it represents an unbreakable bond and everlasting love as it has the potential to endure high stress as well.
The mindset of the buyer:As per the American Psychological Associates, when it's about consumer purchases, then desires rule over needs. It means that whether a customer needs a particular item or not, but he has a strong desire to buy, then he or she will be more inclined to buy it. A luxury item such as rings, bracelets, or anything that has diamonds in it is wholesome of psychological, cultural, and economic factors.
It shows that sales are done on a high scale when sellers are aware of the interplay of buyer's emotion and motivation. Once the buyer has decided to buy a diamond item, then the diamond retailer requires to tell the emotional aspects to the buyer so that he/she will definitely end up in purchasing it.
When it comes to the partners, then the motivation is generally romantic, such as- bringing a gift on some special occasion, surprises, etc. to enhance the partner's happiness. Buyers naturally attribute emotions in the most sensible way, so it becomes obligatory for retailers to understand these emotions in the most possible profound way and then given them appropriate directions to make the best possible purchases as per their requirements. If you are wondering about the significant motivators that customers think when buying diamond jewellery are given below:
Desires: Many people ration self-worth by the size and quality of the diamond jewellery they get. For example- people save a larger amount of money for buying diamond jewellery for someone special. If a buyer thinks that she really deserves a diamond ring for her achievement, then the desire of buying it goes to another level. During this whole process of buying, buyers also consider a budget that how much she can afford.
Celebration:During a celebration or other most special events, people tend to give diamond jewellery to their loved ones to reflect the joy and importance of the celebration. Such special reasons could be the birth of a child, graduation, anniversaries, engagement, etc. It reflects both the joy and importance of the celebration.
The sense of accomplishment:Diamond is a preferable choice when it comes to admiring one's accomplishment. Most of us must have heard girls saying that – My salary has increased, so now I can buy a shiny bright diamond ring or bracelet for myself without making a dent of in my bank account. Many people literally wait to celebrate their accomplishment.
Extra special:The rarity of diamond makes it unique. Have you ever thought that why one only think of a diamond ring when it comes to proposing a loved one? If no, then the most possible answer is that nothing can beat the unbeatable beauty of the diamond. The receiver feels that you have made many efforts to make him/her feel special. Gifting a diamond to a beloved one signifies that their inner beauty is as unique as diamond.
Unsurpassable qualities:Some may purchase diamond just for themselves and others may buy it to reflect an expression of dazzling, rare, and radiant personality. Along with the outer qualities, a diamond also reflects inner qualities as well that are reliability, radiance, strength, and sparkle.
Mark your impression: You are going to meet your fiancé parents for the first time and you want everything to go well and in your favour. What is waiting for? Simply buy a diamond ring for her mother, a game for her siblings, and a bottle of wine for her father. Diamonds will show you that they really matter for you.
Not just for this, if you want to impress your beloved one, then what could be the better present than a diamond ring or necklace or bracelet. It is said that diamond is every girl's best friend, but in reality it men's best buddy as well.
Apology accepted:You have forgotten your wife's birthday and for this, she is really mad at you, so what will you do now? Go to the nearest jewellery store and check out the latest Wedding necklace designs in Dubai and buy the most favourite one. Before making a purchase make sure that you are buying a very swanky necklace. Always consider your wife's or girlfriend's or receiver's personality and then go for the most suitable necklace.
If you do not have much time to go out and look for the designs, then shop online. One can easily find jewellery stores that thrive upon giving the remarkable diamond jewellery at reasonable rates.
In addition to this, if you are purchasing a necklace or diamond jewellery online, then you need to make sure that you are buying from a reputable store. Nowadays, reputation is everything. Check out the customers' reviews and clients' testimonials. Reviews and testimonials reflect the seller's reputation in the market. If the customer is great, then only go for the particular store.
Check whether the seller is offering refund and exchange policy or not. If the seller is not providing these services, then it would be a great idea to steer clear. Refund and exchange policies give a sense of reliability, then our money is in safe hands and if things do not go as per the plan, then your money will be returned to you. You can ask for an apology with diamond jewellery easily because it becomes quite hard for women to say no to diamonds.
An impeccable gift:Giving diamond jewellery reflect your love for the receiver. By giving it you convey your feelings without uttering a single world. A giver conveys that receiver matter a lot for his/her life and all the hard work and efforts done by the receiver is appreciated. Whether you want to gift it to your dad, mother or anyone, make sure that you are buying diamond jewellery as per the receiver's personality.
Trustworthy: A larger chunk of the world's population loves to have diamonds as a present. So, while buying the diamond jewellery, you don't need to struggle with a turmoil that whether a receiver would like it or not. Be it a ring, or a big heavy diamond necklace, just make sure to give it with love and don't forget to leave a short and sweet note along with the gift. When the receiver will read it and see the present, his/her happiness will reach a whole new level. People love to receive diamonds so go for it.
One cannot deny the truth that the process of buying diamond jewellery is a nerve-wracking task, especially when you are on a tight budget. In the end, your feelings matter not the size of a stone. The whole process is undeniably a discovery for both the retailer and buyer. The diamond seller should take time to consider the personality, personal motivations, and taste of the buyer in jewellery. Every customer has different specifications and requirements for one another. A retailer needs to ensure that the buyer is getting the right jewellery that fits in the budget. Now, it is evident that diamonds are perfect for every happy occasion.