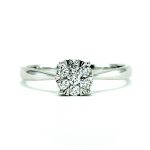 Undoubtedly, diamond rings, have a very special place in our life. We give out or receive rings when we propose or marry someone. They are also the perfect gift for anniversaries, birthdays and many other special events.  There are different types of diamond rings and each one has its own style and design.  Some of the popular ring types are given below
Classic Solitaire:
It has traditional diamond band design that features a single stone prong set on the ornament. This classic design just has one single stone at the middle of the ornament along with some delicate prongs. Featuring a simple design, this kind of ring symbolizes a true love with romantic feeling.
Eternity Ring:
These bands are the beautiful symbol of love and usually gifted by the husband to his beloved wife on a special occasion like birthday or anniversary. This has a continuous line of similar diamonds set around the band.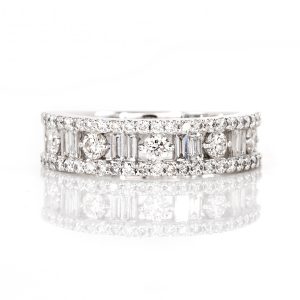 Cocktail Ring:
Cocktail rings are large bands that are made to make a big statement due to their dramatic designs. This extra sized band comes with a big stone at the center. Also known as dinner band, it is generally worn on special occasions and parties.
Engagement Rings:
Symbolizing never ending love, this kind of band usually comes with attractive and unique designs. The design usually features a huge stone set on a wide band. If you want to promise your love that you would get married one day, then you can gift her/him an engagement ring.
If you are considering where to buy certified Diamond Rings Dubai at reasonable prices, then you can approach us at Diamonds Dubai. We are a leading retailer of 18 carats gold and diamond Jewellery.
For more information please visit: –  http://www.diamondsdubai.ae/rings.html