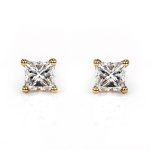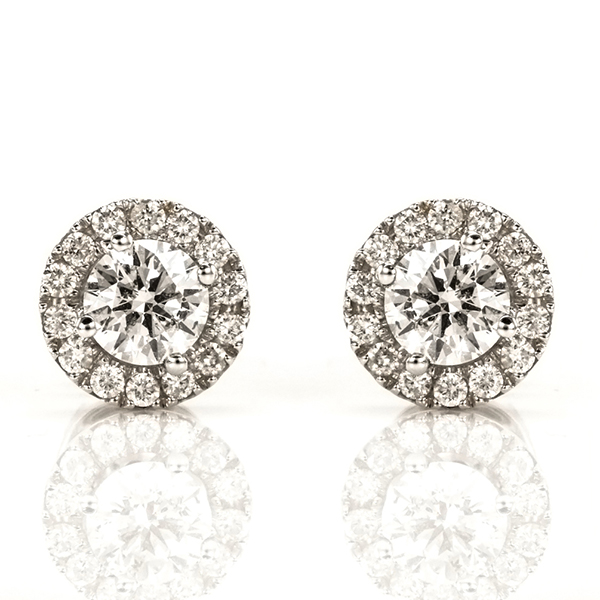 "Diamonds never leave you, however, men do!" this is an adage with which every woman will agree, for sure! Diamonds are not just a gemstone, they are irreplaceable, undefinable, unconquerable and of course, the most fascinating object found on the Earth. It's no secret that diamonds are the best friend of women and a simple look at a diamond jewelry brings about a similar spark in the eyes of women as that given out by the diamond itself. Isn't it? Diamond jewelry has successfully kept their standings as most sought after because of their brilliance, elegance, and ability to add uniqueness with their beauty. So if you want to buy something very special for yourself or to appease the women you love, what better can be than a pair of exquisite diamond earrings.
Earrings are always the perfect gift for every lady. However, when you are on a lookout for a beautiful pair of earrings, you will find that there are various styles of earrings available out of which some diamond earring look better for certain occasions while others can even look great with a casual look. But, if you are unaware of the different types of earrings, continue reading!
Types of Diamond Earrings 
Stud Earrings
A timeless and natural classic stud earring can be found in a variety of designs and serve as an elegant finishing touch to almost any outfit. The stud is attached to a metal post that goes through the ear and is held in place with either a slip-on back or screw. Here are the popular diamond settings found in stud earrings: 
Prong Setting:– Well, it is basic in nature, the smallest, and simplest earring design. Its classic design makes it an excellent choice to pair with nearly any outfit. It comprises an open-ended setting, which allows light to enter from the top as well as the sides, giving the stone maximum brilliance. It comes with several variations, but the 4 or 6 prongs setting is the most popular one.
Pave setting:- It is the tight grouping of identically sized diamonds laid across a flat surface. Small diamonds are set so close to each other without any metal in between giving an impression of a path paved with gemstones. When you are purchasing diamond earrings but have a shoestring budget going for such a setting with a cluster of diamonds is the best choice to have as it gives the illusion that the stones are bigger.
Martini-style setting:- This type of diamond setting is generally found in antique collections. It holds the diamond by three prongs as opposed to four or six, giving the pair of earrings a neat and clean look and is also preferred for showing off the radiance of the diamond, as there is less metal around it.
Frustum Setting:- Another good setting and also the most popular one! It is also known as hollow-cone setting, characterized by a conical or tapered shape wherein diamond rests against the inside of the conical structure of the metal.
Bezel Setting:- This is the most secured diamond setting which has been popular for a long time. Here, the diamond stone is set deep inside the metal mounting adding a sparkle to the earlobe. The versatile nature of this stud setting makes these earrings easy to wear with everything from jeans to a wedding dress.
Drop Earrings
These earrings feature diamonds, gemstones, and metals to achieve a uniquely regal and feminine look. Drop earrings come in a huge variety of styles and range from an inch long to nearly shoulder length sizes. So before you step out to find a pair of earring that will look smashing with your outfit, have a look at the settings and styles available:
Chandelier design: These earrings start at a small stud and dangles from the earlobe to a point at least one inch below the earlobe. Usually when you choose a set of diamond earrings that are drops the diamond may be what is dangling at the end or even in the stud position. This type of earrings add elegance and look wonderful dangling with long hair.
Diamond Drop Design:- Diamond drop earrings are often available in a linear/ line shape or curved shape encrusted with small diamond stones. One of the most popular styles is the 'journey' earring in which each diamond increases in size along the curve of the earring.
Hoops
Hoops are retro style earrings favored by a lot of people and they make a statement depending on the size. Most hoops come in a variety of sizes ranging from small to petite long, dangling and even ones touching your shoulders and give a fabulous feminine touch complementing almost every attire. Generally, in hoops, there are two types of diamond settings which are very popular and they are:
Diamond Hoops:-In this type of earrings, diamonds are set into a classic hoop setting adding elegance and sparkle to a time-honored style. In some masterpieces, diamonds are set only in the front half of the hoop, while others may feature diamonds on both inner and outer side of the diamond. Hence, the cost of earring varies according to the size, number and setting of diamonds.
Huggies:- This is an updated version of the classic hoop earrings. These are small, thick hoops literally hugging the earlobe and are the hinge for easier insertion and removal, making this chic design must have for all.
From delicate diamond studs to large hoops, earrings add symmetry and grace to wearer's personality and enhance any ensemble be it casual chic or formals. There's no secret that when it comes to buying a diamond earring women tend to concentrate more on its design, style, the cut and carat of the diamonds and most importantly the setting of the diamonds. And why not so? After all, setting is the most important aspect, it has a bearing on the look and final finish of the earrings, and also on the safety and resale value. In fact, the setting used for a pair of diamond earrings also determines the cost of it. The more intricate and ornate a design is, the more complicated the diamond setting will be and the cost will also be proportionately higher.
Perhaps, the another most important thing you need to consider while buying an earring is the shape of your face. Many of us often ignore the importance of wearing an earring that actually suits the shape of our face and accentuates our look. However, if you don't know what is the shape of your face, no need to fret about! Just do one thing, the next time your mirror is fogged up after your shower, look at your reflection in the mirror and trace the shape of your face using your finger. Yeah, it is as simple as it seems! Well, this simple earring guide will help you choose just the right Diamond Earrings in Dubai for yourself so that your face looks even more divine than it already is and hence you will never go wrong with buying a nice set of earrings!
Earrings For Different Shapes Of The Face 
For an Oval Face: If you have an oval-shaped faced, believe me, you are damn lucky! You are among those few lucky women who can wear any style of earrings. From huggies to studs to danglers or chandeliers, you can pick any of the styles.

For a Round Face: Have a round-shaped face? If so, you must be always wanting to make it look a bit longer and less puffy. Right? Indeed, the best way to achieve this is to go for thin, long danglers or the ones with a slight teardrop.

For a heart-shaped face: For heart-shaped face ladies, choosing a set of earring that has elongated shapes and curves would be a best-fit! So try chandelier earrings, these will definitely look good on you if you are also a heart-shaped face woman.

For a narrow face: A thin, narrow face needs an illusion of width. Hence, clustered diamond earrings which hug the earlobe would be a good option for ladies with narrow face structure.

For a diamond shaped face: Earrings that best suit the diamond-shaped face include danglers and hoops. And one should avoid wearing diamond-like shape earrings as these types will exaggerate your own face shape.

For a Square Face: A square face needs a set of long, rounded earrings that could soften your cheekbones and jawline. Hence, over-sized hoops, feather earrings, dramatic danglers are good choices to have.

So, now you must have got an idea that which type of earrings are the best for you. Remember, if you are planning to buy these precious jewels, then do them justice by wearing them right and don't just buy them from any jewelry store that comes across. However, if you are pondering about whether to seek a specific diamond brand for your purchase, then consider buying from our most prominent online store offering Branded jewelry in Dubai. Yes! After all diamond earrings are quite expensive that entail spending a lot of money, hence it is wiser to go for an online store like ours having an extensive variety of ready made diamond and gold jewelery that comes with GIA, IGI or HRD certification guaranteeing you of quality and providing you with confidence as well as security. Plus, at our Diamonds Dubai online store, we have a sparkling array of designs for every mood and personality.
From wild sensuality to serene gracefulness, from divine beauty to alluring exotica, we have something for every woman. But it is highly recommended that when you are here for buying a perfect set of earrings, peruse the specifications, check the size of the earring as a bigger and heavier can make you feel comfortable. So choose your diamond earrings with utmost care and look beyond the design and price tag to have an ultimate statement of jewelry. Just log on to our online site, browse through our exclusive collection and take your pick today!