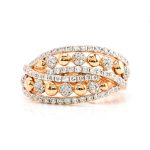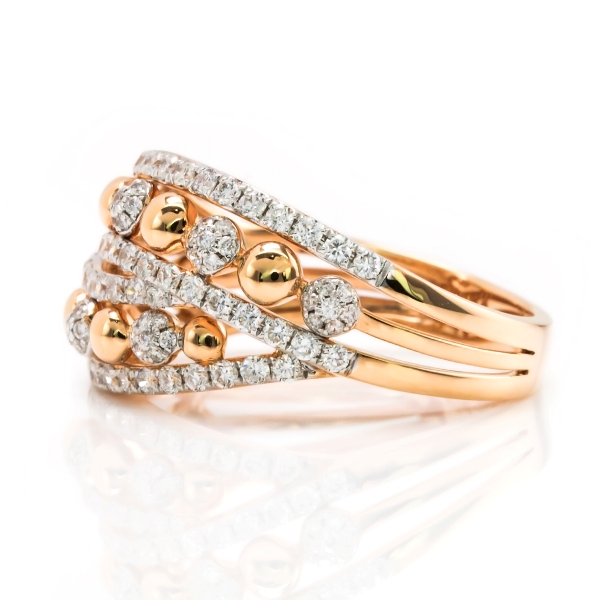 Getting engaged is a revered and precious feeling that every couple seal with a beautiful ring. When we say engagement ring, it is diamond rings that first strikes a glitter. Isn't it? Diamonds are women's best friend, an expensive best friend too! Well, love is a priceless feeling there is no price tag for love and diamonds are cliché. When its time to mark the beginning of a beautiful journey that you are going to start with your soul mate, one needs something tangible, something which lasts forever. Therefore, it is rightly said that nothing can match the charm and gracefulness of diamonds to witness this sparkly symbol of commitment, eternal love and a promise of marriage.
However, when we go to buy a unique engagement ring for ourselves or for our beloved, we come across the myriad of style and designs that includes classic, vintage, modern, or something completely unique and experimental. Hence, to find the perfect one for you that looks elegant and gorgeous, you need to know which diamond shape and ring setting will be best for you. And for this reason, here we have provided you with the detailed information about these shapes of the diamond popular for engagement rings. Just have a look!
Diamond Shapes For Engagement Rings 
Round
Round-shaped diamonds are fancied by almost every woman and man. Especially, when this shaped diamond is complemented with other gemstones, it is bound to look breathtaking and is sure to become the talk of the engagement party.
Oval
Oval-shaped diamonds are little elongated towards the opposite ends and owing to this characteristic these diamonds look bigger than round diamonds. If you have small fingers, you can opt for an oval-shaped diamond in your engagement ring, as it accentuates your fingers making them look a bit longer.
Emerald
If you are on a shoestring budget, the emerald cut would be the best fit for you! Emerald-shaped diamonds are first cuts and are little affordable as compared to other diamond shapes. It is characterized by less number of facets, and flat surface that allows side stones to fit alongside to this ring.
Princess
Princess cut diamond is nothing but a square-shaped version of round cut diamond. Well, like any other ladies, if you also aspire for a solitaire engagement ring, this would be the best choice for you to have. Its unique cut allows the other stones to get placed next to each other, filling up the gaps. No doubt, it is the most popular choice for engagement bands. 
Radiant
Radiant-shaped diamond engagement rings are a hybrid between the round, emerald, and princess cuts. This is an absolutely unique shape of the diamond. So if you have medium sized fingers, not too thin, not too fat, and want something uncommon for your engagement this is your best bet!
Marquise
This is one of the most sophisticated shapes of diamond resembling the hull of a boat. Its simplicity and fineness is highly admired and appreciated by the people all around the world. In fact, Marquise-shape creates an optical illusion causing the diamond to look larger than it actually is.
Asscher
Asscher-shaped diamond is a vintage style ones, but has evolved today with numerous appealing variations. The beveled corners of octagonal or hexagonal Asscher cut diamonds offer high clarity and make it appear heavier than the rest.
Pear
Also known as tear drop diamond is a perfect blend of three different shapes, namely the round, oval and marquise. This 58-faceted stone offers an excellent brilliance that makes it eye-catching and endows an engagement ring with a unique look.
Heart
It's the cutest of all diamond rings. Seriously! If you want to appease your lady with a timeless gift symbolizing everlasting love, then no doubt heart-shaped diamond rings are the one for you! Its elongated angles are cut with high precision, thus creating a perfect symmetry for the lobes.
Cushion
Cushion cut diamonds or pillow cut diamonds more or less resembles an oval-shaped diamond, though there are some variations! These are considered to be the remnants of vintage-old mine cut. So if you love to adorn a vintage style diamond ring go for it.
The style of your engagement ring is one of the most important aspects of buying an engagement ring. Your precious engagement ring is an expression of your personal or your partner's style so be careful while choosing it. Today, there are several settings, styles and builds that have our hearts. If you want to know about some of the most popular styles of rings, continue reading!
Popular Styles Of Engagement Rings
Solitaire Engagement Ring:– Solitaire rings are elegant, minimalistic and timeless. It is the simplicity of this style what sells! This most popular classic style in engagement rings features a single diamond, ideally set in four or six prongs. Even though this diamond setting is very minimal and classic, we can tweak little details opt for a smaller diamond on a narrow tapered band or go for thicker bands according to our preferences and budget.
Halo Engagement Ring:- Halo rings feature a center stone, often surrounded by other small diamonds making your ring look somewhat extra sparkly and divine. The smaller gemstones make the center stone look big and more prominent, thus enhancing the aura of an engagement ring.
Three-stone Engagement Ring:– Perhaps, the most striking diamond engagement ring style! Three-stone rings are classic featuring a center diamond with two similar kinds of diamonds on either side and are usually designed as prong-set, basket-set or bezel-set. Usually, a princess cut or round cut diamond is set in the center with two similar trillian cut diamonds.
Side-stone Engagement Ring:- This is the very popular variation of the three-stone diamond ring. Side-stone rings consist of a central diamond that is flanked with two or more comparatively smaller size side-stones placed on each side. This setting looks more radiant and bright as the side-stones in these types of ring beautify the center stone, thus making it look more distinct, bigger and shinier!
Split Shank Engagement Ring:- This is a modern style of engagement rings which looks very nice especially for elongated center diamonds such as pear, oval and marquise are in vogue these days. It features a band that splits as it reaches the center stone and the micro pave diamonds on the band make it look extraordinary and grand. This style of ring is preferred by woman who likes a sophisticated design but does not want to compromise on the bling factor.
Diamonds which appear similar in size and appearance frequently differ in price- a fact puzzling to the novice. Size alone is not the determining factor in the value of a diamond jewelry. Color, cut, clarity and carat are the important standards on which the price of your engagement ring is based. And to gauge the value of a diamond on each of these counts, your adornment is examined under a jeweler's glass and depending upon the scoring of each classification, prices of diamonds may vary. So don't make the mistake of confusing value with price, when shopping for a diamond ring. Indeed, anyone not an expert in buying precious jewels online requires trustworthy professional advice for choosing a prominent jeweler when selecting a gem, especially a diamond!
Therefore, we are here providing you with the top 5 tips for searching the best Engagement rings shop:
Choose a renowned and reputable jewelry store
Choose one with a large selection of products
Do check background customer reviews online
Check the varied price range available
Make sure your chosen one offers certified jewelry
Peruse all the terms and conditions
Check the payment options available
We know that buying a diamond jewelry is therapeutic, especially for woman. Hence, it is advisable to say that don't rush into buying a precious diamond ring you have been eyeing. To start with follow a general rule of thumb, first set your budget, search a reliable jewelry store that adheres to the aforementioned tips, choose the setting that fits your style and of course your budget and lastly, roll your sleeves up and make your selection accordingly. You have already made the right choice while choosing a life partner, now we hope that you will find a perfect ring as well!
However, if you are worried about whom to trust and from where to buy a unique engagement ring, Diamonds Dubai is the answer! No matter, whether you love the simplicity of a brilliantly cut round solitaire or the elegance of a Rose Gold Engagement Ring, we are the one-stop shop to look out for having lots of designer diamond rings styles to choose from. At our exclusive online store, you will find timeless classic adornments which can never go out of style and will always be looked up amongst all kinds of jewelery which comprise: wedding, engagement, men's jewelry, diamond, earrings, gemstone jewelry, pendants and certified diamonds. We are the most prominent online jewelery store specializing in GIA, IGI, HRD certified diamonds and offering instant shipment to world-wide destinations at reasonable prices. So if you are interested, just visit our website, browse through our exquisite collection of engagement rings and pick the best one you like today!