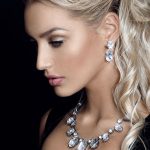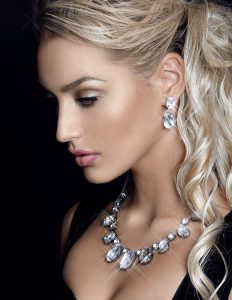 Diamonds are forever, the perfect sparking stones that have dazzled women of all ages. It is said that the glitz of diamonds truly complements the shine and sparkle of a woman's eyes. After all, it is the most stunning and most elegant of all the precious stones known today that bespeaks of elegance, sophistication, royalty and romance. Possessing a single exquisite piece of diamond jewellery can give most women quite a high! Women have been adorning oneself with lovely pieces of jewellery since forever. And the embellishment which has truly stood every possible test, whether of time, style or versatility, is the Necklace.
Hence, if you are looking forward to gift something precious to the woman in your life, diamond necklaces are a great choice definitely. Necklace sets are a perfect gift for every occasion that will surely melt the hearts of the receivers showing her the intensity of your love and affection. Or even if you are willing to add sugar and spice to your own ensemble and wardrobe, nothing can be better than a Diamond necklace. For sure!
But, the fact is buying the one is not as easy as it seems to be! The fashion world is flooded with so many varied designs for every different neckline, which could fling you into a dire predicament. There are equally compelling necklace designs vying to be worn. So you have to be damn careful while choosing the one otherwise, your experimentation can take a toll on your outfit. Yes! It is true. You may be wearing a perfect dress paired with stylish shoes, carrying a perfect bag, but not a flattering neck piece, then your style quotient plummets to the worst level. So to help you avoid such sartorial mishaps, here's an illustrated guide on pairing necklaces with different necklines.
Necklace Designs For Different Necklines
For the gorgeous round shaped neckline the best-suited necklace design is a Round one. This type of neckline does not give much room to experiment, however, offers you the opportunity to wear the most classic round designs. You can try a round necklace with single strand, multiple strands, or whatever suits your fancy. But, if you have a low neck believe me wearing a longer and deeper one will do the wonder to accentuate your attire.
Well, there are a number of necklace patterns that complement a V-neck, it is its namesake that will truly accent its beauty perfectly. Yes, the perfect set for V-shaped neckline is a V-shaped necklace that drops. You can even go for something funky like a round strand at the top, followed by hanging V-shaped strands that drops into the V of the neckline.
Halter, one of the most stylish designs of neckline! Though your neck will already be highlighted with a halter, you need to wear special accessories for these clothes. Indeed, a uniquely designed and slightly plunging necklace would be the best choice for you to have. It would give you a touch of glamor and style that an all-bare look just can't.
Although a cowl neck is elaborate in itself and seems like it won't be able to handle a necklace, a little classic, dainty pendant is a perfect piece which would not only balance out cowl neck. Try it! This is sure to fetch you lots of compliments. Definitely!
Scoop neckline which is referred to as the naughty big sister of the round neck is really very easy to accessorize. All you have to do is find a stunning necklace that highlights the curve of the neckline without concealing it. So rather than choosing a piece that covers your neck completely, go for the one that gives the glimpse of a bare neck.
However, a boat neck is itself meant to accentuate your shoulders and let them do the talking, it doesn't mean a necklace has no place in such an outfit. The most beautiful way to glam up a boat neck is pairing it with something simple yet elegant or something which is truly extravagant like a bold neckpiece. Yes!
When it comes to pairing a necklace with a turtleneck, there simply cannot be a better-suited choice than a long string of beads. Perhaps the closed and high pattern of the neckline denies the use of any kind of necklace. So there can be two ways about it, either go for a simple, long set as mentioned above or none.
A sweetheart neckline is a graceful design and looks perfect when paired with something equally graceful. For an instance, a simple chain with a pendant or something sassy like a beaded choker that would add the right amount of charm and elegance without hiding away the contours of the neckline.
Square neck is made to allow a flattering show of skin. Yeah! It's true. It is one unique design that can match several necklaces. But for some, it can look like a little too angular according to their tastes. So to solve this conundrum round necklace can be the best option balancing the rigidity of the design.
The strapless neckline is all about flaunting a gorgeous neck and to highlight this design dress, a choker is the most flattering neckpiece design. However, there are other strong contenders as well, like a beaded choker, a single chain, or even a bib necklace, but the grace that a simplistic choker adds is second to none!
Again, it is neckline like turtleneck for which most will argue that it is best left alone. It's true that anything too ornate is definitely going to come off as trying too hard however, we will suggest that simplicity is the key to pair a necklace with a crew neck. So keep it simple but not so feminine like a longish round necklace.
A collared top or dress is most probably worn on a semi-formal event. Right? So keeping it in mind, try something like a simple chain with a loud statement pendant. You can wear it beneath or on top of your shirt/dress as per your choice and of course comfort.
Or simply just forgo a necklace if your dress has a one-shoulder, sheer,  jewel, Queen Anne, or asymmetrical neckline. However, the design finally chosen is a matter of personal opinion. While buying diamond necklace sets there are few more things apart from neckline that will help you understand the style of necklace that you can team to complete your outfit. To know what they are, just scroll down and continue reading.
Things To Consider
 Budget: First and foremost, what you need to do is fix your budget otherwise your jewellery shopping can get really expensive.
Dress: Next, it is important to finalize your dress for the occasion before going on a shopping spree. This would help you get a clear picture of the kind of accessory that you would require.
Color: The color of your dress plays an important role in choosing your adornments. For sure! So consider the color and go accordingly!
Fabric: After color the next big thing that really impacts your choice of jewellery is Fabric. If it is heavy, opt for something lighter around your neck to balance it otherwise you may look over dressed.
Hairdo: "Why Hairdo?" if this question have popped into your head it is for your information, that hair, makeup, clothes, and jewels all go hand in hand.
We all understand that how stressful it can be to buy a precious diamond set, how hard it can be to pick the right one from the myriad of wedding necklace designs in Dubai and make a final decision. Plus, we all want to make sure that everything related to our purchase ends well, from the metal to the setting to the diamond to the price. So to rescue you from this arduous situation, Diamonds Dubai is here with an amazing collection of jewellery. We have a wider selection of merchandise for sale available on our web-store and have extraordinarily customized our middle east's online store to serve both local as well as international residents.

Our designers work closely with a primary focus on designing and handcrafting of engagement and wedding ring for women. However, by proffering you a great collection of Rings, earrings, pendants, bracelets, necklaces and precious watches, we take pride in having every capability to be your one stop shop. We have approx 5000 readymade diamond or gold jewellery all of which is certified by the widely acknowledged authorities like GIA, IGI or HRD. All our jewellery pieces come with a warranty card issued by our company and international certifications of laboratories. Thus, if you are looking for decent, elegant, quality, affordable, certified, and fashionable jewelery for any sort of event, head straight to us. Best of all, our selling price is competitive and reasonable that most of the other renowned jewellery store. Plus, we offer free delivery services within UAE only and delivery out of UAE with minimum shipment charges. To know more about our policies, and check out our collection, visit our website today!