No matter what diamond jewelry you want to buy either for you or your loved ones, buying a diamond is always a daunting task. It's truly difficult for a novice consumer to juggle a lot of information to find but that the diamond they are purchasing is truly a good price. Hence, here is given a seven step guide on how to choose a perfect gem for your jewelry. If you keep following steps in mind, you will end up buying a good quality gem either at an online store or a physical store.

Decide Your Carat Weight
Carat weight is of prime importance as it will decide the size and weight of your gemstone. It will also influence greatly your budget as larger diamond will be costly as compared to a smaller one. Hence, before going out for shopping a gem, consider your preferences first. How large a gem will be on your jewelry item and what should be its weight are such concerns that everyone must consider beforehand. Also, you must pay heed at Total Carat Weight or TCW that is used to denote total weight of diamonds in a piece of jewelry such as earrings, bracelets, necklaces and other similar jewelry items. This means that if an ornament contains more than one diamond, its total mass will be different. So, while deciding on a diamond's carat size, consider total mass or weight or carat of all the gems in your jewelry item.
Choosing Your Diamond's Shape
A diamond's shape is completely an aesthetic concern of a wearer. Though, buying a round gemstone is highly recommended. This is extremely helpful when you are buying a gem for someone else and don't know about his/her preferences. Round shape gems not only look beautiful but also, they are the most common shape for diamonds, by far.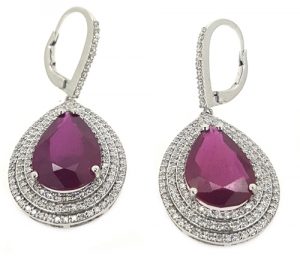 However, a round shape gem can cost you much than other shapes of diamonds. So, always bear on your mind that if you are going to buy a loose, round diamond, it will greatly affect your budget as compared to any other shapes (generally called Fancy Shapes) of diamonds. The reason behind this is that a brilliant round diamond has pretty lower 'yield-from-rough' than fancy shape gems.
Deciding on the Cut Quality
Now, when you already know that how big your gem will be and what shape it should be, you are ready to take the most technical decision here – what will be the cut quality of the diamond. However, deciding on a diamond's cut quality is one of the trickiest questions considering that it is not standardized at all the online or physical jewelry stores. This means that every vendor has set its own cut standard which greatly affects the price of the gem also. Some diamond sellers only offer the cut grade with their round diamonds whilst others give you with a cut grade on their fancy shapes. Then, there are vendors who completely ignore the certificate cut grades on their round as well as fancy shapes gems. Instead of this, they offer their own cut grades matrix that is solely based on the diamond's measurements.
This way, it truly becomes a tricky task to decide on a gemstone's cut grade, when you are looking for branded jewelry in Dubai. So, here is the most important piece of advice for you – always prefer certificate cut grades over individual vendor's cut grades.
In simple words, if you are looking for round shape diamond, always pick the one that comes with Ideal or Excellent cut grade certification. On the other hand, for a fancy shape gem, either you should choose the one with Premium cut grade certification or you can also disregard the cut certification altogether because of the reason that individual vendor has its own cut grades for fancy shapes and they don't adhere to a standard cut grade certification for their fancy shape gemstones.
Finding the Right Diamond Color
Before proceeding here further, just remember this – different shapes of gemstones reflect colors at different strengths. This means that a diamond's color will greatly depend on its shape. So, choosing the best color for best value may be tricky considering that shape of a gem is directly linked to its price. Below is the simplification of what is written here.
If you pick a larger loose diamond, you can easily find an optimal color for your gem and thus it will not only have a great appearance, it has great price, too. In contrast, smaller gems might be a little dull as they will reflect color at a weaker strength as compared to their bigger counterparts. However, smaller gems will be in your budget.
Picking the Correct Clarity Grade of a Gem
If you are going to buy branded jewelry in Dubai at a physical store, there won't be much of an issue in deciding on a diamond that looks cleaned to the necked eye. However, if you are making the purchase at an online retailer, say, this online jeweler, then, you need to pay a closer look to the photographs of the stone that you are going to buy to see if it is crystal clear.
Now, mind that the more a gem looks cleaner, the pricier it will be. So, here is an important piece of advice for you – buy a diamond with lowest possible clarity grade that still looks cleaner to the necked eye and use the saved money on buying a larger diamond or a diamond with higher color grades.
Always Ask for the Right Certificate
If you are searching for a loose diamond, always buy GIA or AGS certified gemstones because of their consistency in the grading system.
Pay Attention on Fluorescence, Symmetry, & Polish
Though, these features are not very much important while deciding on a diamond that is worthy of investment. However, if you pay a bit attention on these features, you will increase your chances for picking the correct gem for your jewelry. So, let's have detailed information on each of these features here.
Symmetry – to understand the symmetry of a diamond, look at the diamond's facets – are they properly aligned? Do top and bottom facets match each other around the girdle? Try to get a gem with Good or Better symmetry grade.

Polish – if you are ready to spend few extra bucks on your gem, you can surely go for a diamond with higher grade polishing. However, it really doesn't matter how smooth your diamond has been polished as even an expert is unable to distinguish between an 'Excellent' polish diamond and a Good polish diamond. But, yes, if you don't want to leave a stone unturned while picking the best quality gem for your ornament, then you can buy multistone necklaces that contains 'Excellent' polish diamonds with it.

Fluorescence – when a diamond is exposed to Ultra violet light then you will notice that diamond glow is blue, most of the time. However, sometimes a gem can glow in different colors like red, white, yellow, and green. so, consider these five points while deciding on a diamond's fluorescence:
Always buy a fluorescent gem from a trusted retailer like this online vendor to make sure your gem is of high quality

While shopping, see a gem under UV and normal lighting. You should also ask the retailer about how it will look in daylight.

If your chosen gemstone has a faint fluorescence, it doesn't mean that you will have to compromise on its brilliance. In simple words, even a diamond graded with faint fluorescence is never dull looking.

It's just a myth that strong blue fluorescence will affect a diamond's overall appearance and its color.

Often times, fluorescence can improve a gem's color. Hence, buying a diamond with some fluorescence in it can be a wise decision.
Choosing a Diamond According to your Personality
In the first part of this blog, you read about how to choose a loose diamond on the basis of 4 Cs – Carat, Color, Clarity, and Cut. Now, in the following passage of this write up you will find out how to accentuate your outfit using perfect diamond jewelry so that you can become center of attraction.
Context and occasion – since diamond accessories can draw attention to the body part they are worn on, make sure that you are wearing a right piece of ornament keeping the occasion and context in mind.

Skin tone – whatever you wear, it should match your skin complexion.

Color – also, diamond jewelry should easily go with the color of your outfit.

Scale – always choose the size of a diamond carefully keeping your height, weight, and face structure in mind. If you are short, go for smaller gems that can complement your personality and enhance your looks.
So, these are few simple tips on how to pick the right gem for you. Hope, the information shared here will be useful to you.