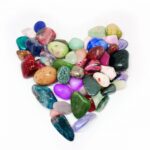 Gemstones over Diamonds
Contrary to belief diamonds are not the only option when it comes to Engagement Rings, there are lot many options available for Engagement Rings.
Engagement Rings options with moissanite, gemstones such as Ruby, Sapphire, Emerald etc.
An Engagement Ring doesn't have to look traditional to be spectacular, there are options to set as center stone is definitely attention-grabbing. Even better Gemstone engagement rings are most affordable for budget manage and stunning to wear.
There are options available without the diamonds in market today.
MOISSANITE ENGAGEMENT RINGS
On the Mohs scale, moissanite scores a 9.25, a very good score that makes it one of the hardest substances on earth, and very suitable for everyday wear as an engagement ring.
Price wise Moissanites are much cheaper and affordable than diamonds in market. Harder the stone, less possibilities you are accidentally damage it. Mohs Scale is useful to check the sparkle and shine of the stone.
As we can't see the difference between diamond and moissanite directly, you can rectify the diamond and moissanite with diamond tester or with loop .
Emerald Engagement Rings
Though emerald is birth stone for MAY month, but there some emerald or synthetic emerald stones available to wear as a fashion jewelry or accessories.
Emerald has got many fascinating styles when matches with small diamond stones and gold setting.
The most famous LADY DIANA Ring setting is specially made with very good and crystal-clear quality gemstones. Same as diamonds as you go for pure, natural and non-heated gemstones price for them will be in millions and so on.
People also prefers wear gemstone ring for astrology purpose with skin touched setting to radiate the energy from stone to body.

Ruby Engagement Rings
Ruby is stone for JULY month, people prefers to wear it ruby as a fashion jewelry or astrology purpose. Available options for this stone based on color and carat (size of stone). stone is treated or heated under the specific temperature or the natural ones.
It is possible to set the gemstone with solitaire setting, with small diamonds made in 18kt gold. It is possible to set the gemstone in different gold settings, height wise, band width, shank style.

Order your customize Gem Ring Design made in 18kt Rose gold, White Gold or Yellow Gold. Check out our Gemstone Ring section for more designs and offers.
Apart from above 2 gems, there are many different semi-precious stones available in market, such as Garnet, Amethyst, Aquamarine, Smokey Quarts, Rose Quarts, Smokey Topaz, Blue Topaz, Green Topaz, Peridot, Sapphire, Blue Sapphire, Pink Sapphire, White Sapphire, Pink Tourmaline, Citrine.
Gold Love Knot Engagement Rings
Engagement Rings options made in Gold also available. Love knot Ring made in 18kt gold looks delicate and traditional in style.

Gold Love knot ring can be made with concept of gemstones or diamonds either side of knot. Love knot ring symbolizes the forever love & promises. You can make this delicate style as well double knot ring.
So above are the best and more likable options which can truly and amazingly replace the diamond rings that make your lady happy.