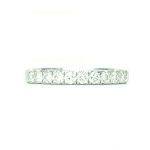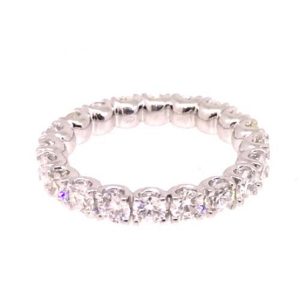 Types of wedding rings:-  plain, micro pave, petite, simple, white gold & yellow gold etc
Wedding rings are one of the cherished symbols that couples used to give each other. Wedding rings are the best way to beautify and personalize the ring. Seal your love by exchanging a beautiful thing to each other. Wedding rings and the tradition of slipping a wedding ring in your spouse finger is a memorable moment that is remembered the entire life. The rings that are used to exchange in the hands are really means a lot to the newlywed couple. The adorable rings play a part of the promises being made to each other that we will always be there for each other in no matter what time comes in life, be it good or bad.
It is truly said that the wedding ring is worn on the left hand ring finger. However, tradition changed through the span of time and somewhere it is worn on the right hand. Wearing the wedding ring always shows the commitment to someone. Wedding rings today have a great meaning even with the designs. With having the types of wedding rings, you can make your perfect choice.
Simple Plain Gold Wedding:- When it comes to show your true love it does not need to show off. Promises are made to keep not to be shown. To follow simply the traditions, it can be done with simple and elegant designs of wedding rings. A plain gold ring broad in size looks so promising than designer rings. The designs of the plain gold ring are simple and unique and will stay on the fingers without any loss or depreciation.
Rose Gold:- It is no less than the platinum jewelry. The beauty of the rose gold ring seems like marvelous. A complete row of the pink and white diamonds stud alternately in a unique design to give a most attractive look. It is most popular choice among the people. Every lady is having a strong desire to wear the rose gold ring in her finger. It complements your outfit and matches your sense of style.
White Gold Wedding Ring:- white gold diamond studding weddings rings for the men and women designs are completely adorable. The lady ring is simple light and thin in design while the male rings are normally thick and broad with studded diamond in the center.
White Gold micro pave:- This type of wedding ring comprises of micro pave diamond studded inside it. It also much in demand in high society weddings. The sparkling part of the micro pave diamonds is much favorable among many people. The look and quality that reflects the status of the wearer is always praised when worn in finger.  It attracts the viewer's mind and force them to compliments its look. But it should not be worn on the daily basis.
Platinum wedding rings:- Platinum is a very rare and beautiful metal that is increasingly used for making jewelry. It is quite strong and malleable metal and is the perfect one for making wedding bands and rings. When it comes to the platinum wedding rings, these are more expensive and exclusively made awesome. The platinum ring is an excellent base to set the precious stone in. The wedding rings consist of rings for the groom and bride that are embedded with diamond and embellish the overall look.
Yellow Gold Wedding ring:- Everyone is aware about the element gold that signifies purity and frequently. Among all, yellow gold symbolizes subtlety yet sophistication that have been associated with jewelry for ages. Yellow gold is not only agreeably soft in presentation but also bright enough to attract attention. It is ideal for regular use as it is highly durable and also wearable with every occasion.
Oval cut Halo Rings:- It is one of the most common engagement rings that have led the wedding and engagement ring retailers ahead of all. The collection occupied the maximum hearts and minds of the customers. Their beauty and brilliance have already countered the popularity. These are special items that are significant in a person's life and should be chosen with much care and considerations.
Simple Sober Petite Rings:- Simple petite rings are very popular not just because they are perfect for regular wear, but also for its unique designs, simplicity, and sophistication. They are usually moderately priced so many people find them quite affordable. They are preferred even by teenage girls.
How to pick the right gold rings or jewelry?
The type of gold rings you want to purchase completely depends upon your choice, preference, and budget. But choosing the right type of gold can be tricky. The  gold has been a favorite of women who desire to not only enjoy wearing an alluring piece of ornaments but who also want to make investment that will only accrue in value over the time.
Gold ornaments always come in pretty designs whether they are yellow or white metal and always look appealing no matter the type. This metal is also very user-friendly as its appeal and shine is untarnished over the time and it also hypoallergenic to almost everyone who wears ornaments designed from this metal. The ornaments made from this metal can even be worn by small kids.
If you desire to add a piece of gold ring to your jewelry collection, here are some tips to help you make a right metal choice.
Purity of gold: Determine the originality and purity of gold that you prefer to buy. It can be found in different level of purity determined by 10, 12. 14, 18 and 24 karat gold.  The karat refers to the amount of gold in jewelry. The more the karat, the more pure gold is used in the metal structure design. The amount of pure gold within an ornament is directly related to the cost factor. Thus it is better to invest in 24K accessory as it is made from pure gold.
Trademark: When picking an ornament, looking only for karat is not enough at all. Also look for trademark sign that is etched into inside area of an ornament. This authenticates the seller as well as the place in which the product was designed.
Other metal used: Gold ornaments are never manufactured using pure gold only. They are combination of many other metals as gold is very soft substance and it is not possible to manufacture a piece of jewelry using gold only. Find out what other metals are used with an ornament. If you buy anything less than 24 karat item, make sure to ask a seller what other metals are mixed in the structure of the item. Items designed from a combination of good percentage of different metals are considered an alloy.  These types of alloy based ornaments are not so expensive and you can purchase them at very affordable rates. However, some people are allergic to alloys. So be sure what are buying.
Budget:  A vital consideration when planning to purchase gold item is of course, the budget that you have for one. Sine fine and appealing ornament will need you to spend a good amount, you have to control as how much you are willing to spend. You have to keep in mind that numerous gold items available in the market are made out of different levels of karats and vary in prices. Although, the absolute best investment you can make is item designed from 24 karat gold, investing in 18k or 14k rings is not a bad idea when it comes to managing budget and picking the most appealing item.
If you use these simple tips while making investment in the gold, you will be more likely assured that you select and buy the best ornament for your personal collection.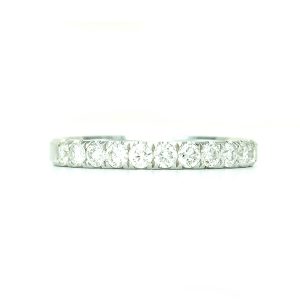 Where to Shop:-
Diamonds Dubai is a leading retailer which has been selling a great variety of beautiful Eternity Rings in Dubai at very reasonable rates since 1966.  In their collection, they have huge variety of engagement wedding, color stone, solitaire and many other types of rings to choose from. In their collect, they also have multistone necklaces, gemstone bangles, gold and gemstone pendants, and gemstone earrings. In fact, they also sell certified diamond jewelry in from of rings, earrings, pendants, necklaces, bangles, bracelets, watches and more.
The best thing is that they give absolutely free shipping facility on all orders within USA and charge very minimal fees to deliver items out of UAE. Shipping fees are applicable and depends upon the area of delivery.
If you have any unanswered question or doubt in the mind regarding their ornament or shipping process, then you can approach to their representatives in multiple ways like online message by filling a short form available on the site, dropping a mail, phone and on Whatsapp. For more information about seller and its jewellery, simply visit their site now!