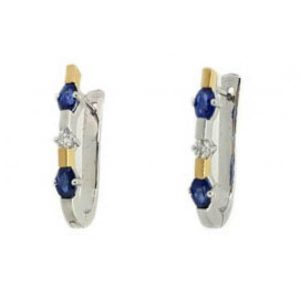 Nowadays, fashion is everything. We all want to look flawless. Agree or not, fashion also boosts confidence. It can either make your look or break your entire look brutally. If you do not want to get arrested by the fashion police, then it is really necessary to keep a tab on the latest fashion trends that are ruling the world. Fashion comprises of a broad array of elements that enhance our look and reflect our personality. One of the elements of fashion is earrings. Wearing earrings is one of the oldest and most prevalent forms of body adornment that is found to be a cross-cultural norm since early history. Earrings have been worn for various reasons that encompass religious believes, superstitions, rites of passage, spiritual drives, celebration, status symbol or entirely for aesthetic motives. As the time went on, it gets prevalent to see faces with earrings that are continuing till today. It has the ability to influence fashion. Generally, women pick the earrings as per their overall style or colour choices. Agree or not, nowadays, earrings are considered the most important accessory. The contemporary concept includes that every woman needs to choose the right earrings for their face shape. Doing this will put emphasis on your natural beauty and can gratify your best features, as well as add colour and personality to any outfit. One can easily find different types of earrings in the market which are composed of different elements. But, this is also a fact that every woman desire to own twinkly diamond earrings. Are you one of those women who love to have diamonds? If yes, then the beauty of diamond earrings can make you skip a beat. They look gorgeous, classic, and radiant. And above all these features, they are timeless and make great heirlooms. One can easily find spectacular Diamond Earrings in Dubai from a reputable outlet.
If you are one of those women who doesn't like to wear any other jewellery, but cannot step outside without wearing earrings, then own a pair of diamond ones because they will look classy with every outfit. Brunch look, casual look, glam look, chic look, wedding look, or any other look, diamond earrings will not disappoint you at all. If you already own them, then how should you wear them? Fortunately, diamond is versatile as they look great with every outfit. Many people think that they are only meant for special occasions. Though diamond in its truest and purest form reflects versatility and sophistication, this doesn't imply that you are not allowed to wear them on lesser formal events. There are a lot of ways which you can incorporate diamond earrings in your outfit which make them an impeccable accessory for all occasions. The only difference is how you carry them and what you pick to accessorize them with. There are diversified styles still unexplored. Here are a few tips that you always need to keep in mind.
What type are diamond earrings you want?
Before you can decide how you need to carry diamond earrings with every outfit, you should consider their shape and size. If you want to wear them on a daily basis, then it would be advisable to buy small or mid-sized earrings. Diamonds are the most popular choice among those who adore diamonds. They are easy to wear and will not cause any problem. They are classic and despite of their little size, they look gorgeous.
Another popular shape for diamond earrings is the dangling ones. These hang gracefully from your ear. They are available in chandelier style and in other styles also.
Finally, diamond-studded hoops. They are a bit contemporary and glamour to your look.
Where should I wear these earrings?
As we all know that diamond earrings impart versatility and elegance so they can easily be paired with any outfit. If you want to diamond earrings on a daily basis, then wear little stud ones because they look awe-inspiring are perfect for daily use. You can wear them to your office also. They are impeccable for a formal look. If you are willing to wear your diamond earrings only on special occasions, then you can get your hands on both dangling and small diamond earrings. Gone were the days, when diamonds were trotted out for the fancy occasions. Nowadays, there is a no such rule book that dictates that one should not wear them daily. The rules are quite relaxed and can wear them in everyday settings without worrying about any over-do. Diamond earrings are versatile, so don't feel hesitated to wear them in a lesser formal event. 
What can I pair with diamond earrings?
While a diamond does not show any colour which makes it perfect for most of the jewellery. But always remember "excess of everything is bad". Pairing your earrings with too much jewellery can be a big disaster. Do not forget that simplicity is the key. Provide your earrings with a chance to shine by wearing minimal jewellery. You can wear a bracelet or a simple necklace. One can also wear a stylish yet graceful watch which will take your look to another level.  People will not be able to take eyes from you or showering compliments on you.
One can conveniently create a contemporary look by picking silver jewellery in bold and modern styles.
Another option is to pair your diamond earrings with some gold jewellery like a gold pendant or ring.
Be careful when pairing diamonds with other gemstones. You can choose earrings that have only one gemstone along with a diamond. One can also choose earrings that consist of diamond in its middle and is surrounded by gemstones. While they look stunning, but many of us don't know how to prevent them from going over-the-top. It is advisable to prefer a simplistic look. In addition to this, your diamonds may outshine your other jewellery which will make it look grotesque. If you wish to pair your diamond earrings with other gems, then consider other pieces that also consist of diamonds. Gemstones play an imperative role in keeping the beauty of diamond intact. One of the most crucial aspect that the jewellery that you pair with your diamonds earrings is also dependent on where you are wearing it. You need to be more diligent with necklaces. Don't overdo anything and your look will be on the zenith of perfection.
What type of hairstyle should I make with the earrings?
The hairstyle you pick is based on the willingness of your flaunting your earrings or not. Some people like to incorporate them into their look and some like to highlight them.
Make your diamond earrings the heartbeat of the show by wearing your hair slicked back in an updo. You can opt for a messy bun, a sleek ponytail, or braid.
Go for a glamorous look by having soft curls and pinning it back from your face.
If you do not want to attract too much attention, then you can always wear your hair down.   
What outfits will go perfectly with them?
As most of us will say that the sky is the limit when it comes to diamond earrings, you can easily make them look show stealer with simple style choices. Be it a little black dress or wedding gown, they go perfectly with many outfits. They add a little extra sparkle to your whole look. One can also make their earrings shine by wearing a neckline that shows a bit skin, such as V-neck or haltered neck top will make you look drop-dead gorgeous with diamond earrings. If possible, then try on earrings in the store that you wish to buy. Doing this will give you an idea of buying them or not.
It has been said by Marilyn Monroe "Diamonds are a girl's best friend." This quote is enough to justify and show the importance of diamonds in every girls' life. Women get never tired of having diamonds. There is no such thing like having lots of diamonds. Render you diamonds the spotlight they deserve by following the aforementioned easy tips.
If you want to buy Online Loose Diamond in Dubai, then you can check many online stores that strive to provide loose diamonds. Before buying them, make sure that you are buying the diamonds from a reputable store. If the reputation of the store is not good, then it is advisable to steer clear. We all want our money to be in safe hands that is why reputation matters a lot.
Always make sure that you are getting your hands on certified diamonds. Search for a store that gives certified diamonds. You don't want to invest money in non-certified diamonds.
Now, it is clear that a great pair of earrings do not just enhance your beauty but will also gratify the elegance of your outfit too.