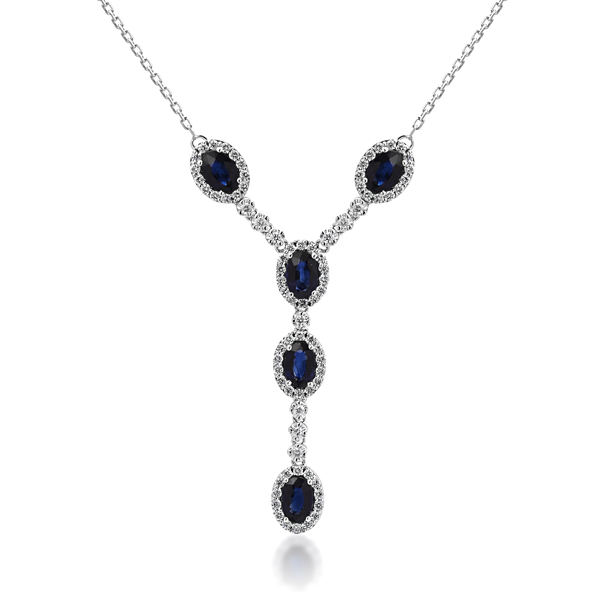 Diamond necklace is the ultimate adornment for a woman. And it's obvious why- the glitz of diamond necklace truly compliments the shine and sparkle of a woman's eyes. Wondrous beauty of diamonds simply completes the elegance that every woman wants to express. The unparalleled shine, sparkle and brilliance of diamonds are forever and have dazzled women of all ages for centuries. These are the most elegant, most stunning, breathtaking embellishment of all women's jewelry. Diamond necklaces make timeless gifts that make her realize how special she is. So if you are looking forward to gift something precious to your beloved or any other special lady in your life,simply present her a dazzling necklace that will melt her feeling your sincere love. Or even if you are willing to buy it for yourself,trust me the choice of buying a diamond necklace full of glitz and glamour is never going to disappoint you.
Diamond necklaces are a perfect accessory for every woman. It is true that nothing showcase elegance better than a classic diamond necklace.Having a perfect masterpiece for your neckline has become a popular,stylish and fashionable style statement for many. These bring a beautiful flair and class to any outfit, style, event or wardrobe.They compliment everything from an Indian traditional outfit to western wears and even formals. Plus, they come in an amazing variety of styles and designs that are perfect for ladies of all ages and for any occasion.
Styles of Diamond Necklaces
The two main types of diamond necklaces are:
Chains and Strands
These are classic graduated diamond necklaces that lay comfortably and fluidly on the neck. The chain and strands necklaces or full diamond necklaces feature single or multiple diamonds which are attached or set in the link of the chain which encircles the neck.
In this, diamonds are strung in strands around women's neck with many different widths, lengths and designs. These types of necklaces, the diamonds can also be interwoven with the strands of metal forming the chain or set in such a way that they make up the links of the chain itself.
The chain and strand style necklaces add a sophisticated elegance to a woman's jewelry collection and are considered as an exquisite gift for someone special.
Some of these full necklaces are quite dainty and consist of little more than a thin chin with one or a group of three bezels set diamonds, whereas few other bib type necklaces have a number of vertical strings of diamonds hanging down across the front.
These full diamond necklaces are worn by the ladies for every occasion to bring elegance and class to an outfit.
Pendants
These are the most popular style of necklaces since they can be worn on a daily basis and with any outfit.
In this, a small piece of diamond jewelry is hung from a separate chain. The pendant is not part of the chain so it can be transferred from one chain to another thus, allowing both the style and length of chain to be varied with ease.
There are countless styles and options for pendants, that ranges from circles, geometric designs, solitaires, twists, initials, charms, curves, multiple drop stones comprising of religious symbols, hearts, flowers, keys, animals , stars.
The setting of pendant necklaces ranges from bezel, shared prong or channel set with the more intricate designs like pave settings.
Interestingly,just like diamond rings, there is a wide variety of shapes and types of diamonds that can be used in necklaces. The shapes of the diamonds that are chosen accordingly to enhance the features of the masterpiece. The most popular shape of diamonds that looks great in necklaces are- round, princess and emerald. No matter, they are used as single or multiple stones, they make a beautiful set as they can be placed into unique arrangements. So if you are thinking about purchasing a diamond necklace, just scroll down and have a look at the things that you need to consider to ensure your investment is made wisely. After all, it is not something that you buy everyday!
Various Shapes and Styles
Well,as you must be aware of the fact that there is a huge variety of styles of diamond necklaces available in the market, like Riviera,chain, collar, pendant, station, lariat, choker,etc. so it is advisable to say that consider what style you want to buy.
Suppose, if a single stone is your choice of diamond necklace then there are plenty of shapes to choose from like round, princess, cushion, marquise, emerald, radiant, pear, oval, asscher, etc.
The sparkle of the diamond is the thing that attracts and envies others,so choose a cut that allows a large amount of light to show through the facets.
Or, if you are looking for something little more romantic then heart shaped cut would be your first choice. These heart shaped diamonds are another very popular cut that reflects many of the traits and characteristics of the brilliant round. It also has a great sparkle and glitz and is definitely a perfect set for your sweetheart.
Whereas, if a single stone is not your taste for then a series of smaller stones will be your best choice. You can choose to have two, three or more set of diamonds and team it with a precious metal to add a bit of color and personality.
It can feel hard to make the best decision when it comes to choosing the style, look, cut and design. However, if you consider a few simple ideas that are mentioned below you will have a better understanding of what to look out for when you step into the market.
Things to consider while buying a diamond necklace
If you are buying an exquisite neck piece to wear on a special occasion, then it needs to compliment your dress. Some diamonds give off slightly different lights so if you are particular about the color tones and lights, don't forget to check the neck piece against your dress. Or you can do one thing, start with the jewelry and then shop for the gown to match!
Go for the gut instinct when selecting designs of the necklace but you can also as the shop assistance or someone with you about which settings or designs can look best with your face shape. For an instance, you must be willing to buy a choker but a v-shaped drop may suit you more.
Remember, there are endless combinations of settings to choose. From having one simple diamond set on a chain to a cluster of small diamonds set in a pattern, you have plenty of options. You can even select something which is a mix of two of these styles.
Lastly, we will suggest you that end with something you love and will cherish. Especially, if it's a gift, then going with your gut instinct and believing that you have found just the right piece is important.
Earlier,it was the time when the necklaces embedded with the most precious diamond setting were mostly worn by the aristocracy and it was not possible for even the riches to buy the one. But, today the things have changed now they are readily available. All thanks to the plethora of jewelry stores that are available on the internet with anamazing collection of diamond necklace sets.Many people today are considering buying precious diamond jewelry as well through online stores. And this is because buying jewelry online means no sales pressure, more selection, more and better options,variety and easier comparison shopping, and of course the better price.
However, there are innumerable online stores offering extensive collections and claiming to offer various facilities to their customers which can further confuse you.So to avoid such a dire predicament simply head straight to us! We,at Diamonds Dubai, are here with stunning wedding necklace designs in Dubai for every woman. On our Middle East's leading jewelry store, we have approximately 5000 ready-made diamond and gold jewelry that includes wedding engagement rings for women and men,earrings, pendants, bracelets, necklaces,luxury watches and what not.
It is no exaggeration to say that, we have been serving since 1966 and have more than 1 million happy clients who have enjoyed our state of the art services and are truly satisfied with both or unique collection and prompt customer services. Plus, we defiantly help our clients go out of the way in repairing/ replacing any small diamonds that may have fallen or misplaced in due course, and for the bigger diamonds that are above 0.50 carats which would be quite expensive,we recommend you to take up the jewelry insurance plan and follow the following steps.
Steps to be Followed for Jewelry Insurance
Choose the best jewelry insurance provider that insures your jewelry as well with other assets, property, car, house under one umbrella.
Opt for the policy that covers almost all types of damages that could be caused due to handling or simply wear and tear.
Check for territory wise coverage that provides protection to your jewelry while it is kept inside your home and even when you are wearing it outside.
Get a safe and door or window breaker alarm system activated.
Ensure that your jewelry insurance policy has transparent policy schedule for all inclusions and exclusions.
Get your policy updated regularly and also valuate your jewelry with your jeweler.
Before choosing an insurance company, make sure that the one you have chosen have simple and easy protocol in an event of requesting a claim.
Also discuss with and attain a written confirmation from the insurance provider for replacement for lost/stolen items.
For any further queries about our products, delivery procedures,boutiques or other terms and policies, simply visit our website or give us a call today!