Engagement is a very special occasion in one's life and to symbolize the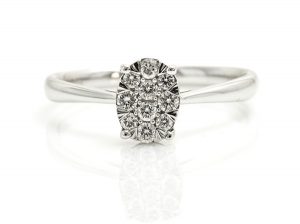 significance of such a huge day, an engagement ring is presented to the loved one. Since, it is said that diamond complements love brilliantly couples gift each other a true symbol of love- 'Diamond Engagement Ring'. Now that you have found the love of your life and you would like to shower your pristine love upon her, what can be better than presenting her a precious diamond ring. For every girl, a proposal and a ring that accompanies it is one of the heights of romance and it enhances your love relationship with each other whilst you embrace the wonderful memories.
The thought of an engagement ring conjures images of an elegant, graceful, sophisticated, delicately set diamond. For almost all of us, it's hard to imagine an engagement ring design without this precious gemstone. However, that's certainly not going to stop you from thinking out the box and choosing a unique design that include the gemstones featuring all colors of the rainbow. Today, there are plenty of options out there from vintage inspired designs to dainty settings and colorful center stones that are ushering more and more happy couples to the altar. While a simple solitaire engagement ring may be a classic choice, here are popular engagement ring trends that could be a perfect option for you.
Rose gold
No doubt, rose gold engagement rings are the trendiest settings in the fashion world. And the major reason why pink gold is making a huge comeback is that this feminine rosy shade flatters all skin tones and lends a unique charm and grace to the wearer's personality which is second to none.
Sapphires
It's no longer mandatory for engagement rings to come with colorless stone. For those who don't want to go with a colorless single stone, sapphire would be a great option. While sapphire comes in a huge variety of color shades, the blue sapphire is the most sought-after choice of all ages. The finest natural blue sapphire rings truly make a colorful statement which is second to none. Absolutely!
Morganite
Engagement rings with Morganite center stones are in full bloom these days! They are the most favorite among all for their captivating blush tones and exceptional beauty. If your soon-to-be-bride is lusting after a precious pink gemstone but you don't have a hefty budget, morganite is the one for you. Yes! Morganite engagement rings are trending, beautiful, durable and of course an affordable gem.
Diamond Alternatives
If you are not a fan of colorful gems and desperately want to have colorful gem in your ring that looks similar to white diamond but cost considerably less, then no need to worry! The popular alternatives of diamonds like Moissanite, gray sapphires and white topaz offer everything you want in a perfect engagement ring. Their uncompromisable brilliance and fire would definitely take your breath away.
Nature Inspired Accent
Well, nature inspired is the latest trend in the engagement rings. Today engagement rings are found showcasing the beauty of nature with blooming with flowers, vines, petals, and other natural motifs that look exceptionally elegant. Nature themed unique design adds whimsical detail to a classic engagement ring setting.
Vintage inspired
Vintage style engagement rings are reminiscent of another era. So true! Featuring intricate details and antique style showcasing the charisma of old world these vintage inspired engagement rings are an ideal choice for those seeking one-of-a-kind design. Their exceptional designs are heirlooms in the making that make them stand out above all the rest. 
Double shank
Double shank style rings are also called split shank rings. These are characterized by a band that splits in the middle to embrace the center stone and this double frame accent makes this type of rings appear larger and more luxurious. Split shank engagement ring comes in the most striking and dramatic designs that are sure to add the right amount of sophistication and elegance to your attire. 
Three-stone rings
Three stone engagement ring is the most popular ring design. All thanks to royalty! These are one of the gorgeous choices that come in a huge array of breathtaking beautiful designs showcasing an exceptional combination of elegance and brilliance. These rings are considered as an ideal choice for engagement as they are said to symbolize the past, present and future. 
Delicate Setting
Exquisitely designed delicate setting rings are dainty, timeless and feminine. These rings often come with small stones, thin bands and simplistic detailing. So if are seeking for a ring with a minimal aesthetic and appear more intricate than the bigger flashier ring but cost less, than delicate engagement ring is the right fit for you. No doubt!  
Hexagonal Halos
Hexagonal Halo engagement rings are synonyms for both chic and sophisticated. For the soon-to-be brides looking for a stylish setting, unique cut and stunning diamond centerpiece altogether, Halo Engagement Ring is a perfect choice. This modern setting put a fresh twist on the classic engagement rings with pave diamonds encircling the center stone by giving it a more geometric take. 
East-west setting
This style of rings has got their name from its unique stone setting. Yes! The East-west setting is said when the diamond is placed in a horizontal orientation on the ring band. This type of setting gives a very unique look that permeates modernity into classic. Today every soon-to-be-bride desires something unique yet classic in nature, therefore for all those gorgeous ladies with the same understated vision east-west setting ring are a great choice. 
Pear shaped and marquise cut diamonds
Pear and marquise cut diamonds- featuring relatively similar, fancy shape, and unique cut. These rings are a perfect blend of sophistication and eccentricity. Although this style of engagement rings are not new, they are a distinctive stylish choice which is carved a niche in the fashion world today. Pear and marquise cut engagement rings with a vintage, antique style cut are an ideal choice to commemorate your pure and pristine love for your beloved.  
Two stone rings
Two stone diamond engagement rings are all the rage in the market today. These are said to be designed with two gems to represent the two hearts that make a relationship beat and hold a promise of your everlasting love for your lady. Thus, this fashion forward setting makes up a perfect piece with an open style or with two different shapes of diamonds or both. 
Stacking bands
Stacked engagement rings have been gracing the ring fingers of brides for years and the reason why we are so obsessed with the stack band style rings is that it is totally customizable. Yes! You read it read. This allows you to wear two, three or even more bands together for a powerful, layered look that makes a fascinating statement. Especially for those who are on a tight budget, but don't want to compromise on style and look stacked engagement rings are no doubt a great way to save money. 
Twisted setting
Are you a traditional bride looking for an engagement ring which is sleek, stylish and slightly off the beaten path? If yes, a Twisted setting engagement ring is just the one for you! Twists on the band and settings have put a new spin on the classic rings making your ring much more trendy. These rings featuring twists on the band are a beautiful way to showcase the precious center stone in an absolutely unique way. 
Oval shaped diamond
Oval shaped diamond settings make up the most feminine and graceful engagement rings. These are masterly crafted to sparkle exquisitely in a unique and elegant way, thus are rightly considered as truly worthy of your eternal love. The timeless, elongated shape of a diamond with a delicate design create an Oval Engagement Ring which is striking in its simplicity. 
Now that you know the popular trends in an engagement ring, it might be easier for you to choose a perfect engagement ring for the love of your life. Right? If your answer is yes its great, but if you are feeling overwhelmed at the thought of choosing a ring from such a wide variety available, then simply think out of the box and go online. Although it might seem a bit intimidating to look for the Engagement Rings online, it is not! Buying a stunning engagement ring online is really easier, less stressful and of course economical, especially if you are making your purchases with the most eminent jeweller in Dubai. It's no exaggeration to say that, we, at Diamonds Dubai, are the world renowned for the delivering quality finish, unique design and exceptional customer services at the market leading prices.
On our exclusive online store, we have approximately 5000 readymade diamond or gold jewellery which comprises wedding engagement rings for women as well as men, earrings, pendants, bracelets, necklaces and so forth. And most importantly, you will be glad to know that all our adornments come with authentication and warranty card issued by world acknowledged authorities like GIA, IGI or HRD, thus giving you a sense of security and confidence with your purchase. Plus, we offer instant shipment to worldwide destinations, free delivery service within UAE and delivery outside UAE with minimum shipment charges. So if you are looking for a truly unique engagement ring for your beloved or any other jewellery, head straight to us! Check out our extensive collection of stunning masterpieces, and pick your favorite. Hurry up visit our website today!