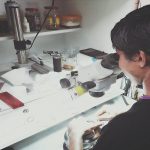 You may either confirm any given order for jewelry by paying 50 % down
payment via visa/master card or you are welcome to facilitate an online
bank transfer to our company bank details provided upon request.
we shall either whats-app message  or email you the progress of your order
and once your order is fully completed , we can send you the actual relevant
pictures. followed by that you would be requested to fulfill the balance
outstanding payment in our mutually agreed mode of amount transfers.
---