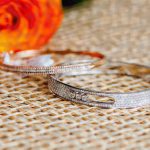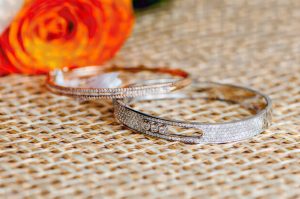 Wedding, without any doubt, is one of the most beautiful and significant instants of couple's life. Both bride and groom have some valuable moments and memories of this special event. Everything related to the ceremony conveys a message of happiness, togetherness and pure love. The most vital part of this beautiful event is wedding ring. It is the visible element that signifies the marriage.
It is very special piece of jewellery which binds the two souls who are in love for a life span. The wedding ring is an icon that indicates one's commitment and trustworthiness to his/her spouse.  By exchanging wedding rings the couples pledge with each other that they will share all the happiness and sorrow of their life with each other. They also illustrate that they are ready and happy to take the responsibility of each other for the entire life.
It holds a significant place in both bride and groom life. In fact, in all the traditions and cultures the significance of wedding ring is same and it has special meaning. That's why, it is very imperative to give the best ring to your would-be-partner.
The good thing is that there are many choices available today. Not only in bridal range but in groom's range you will get endless varieties in different styles, designs, sizes. You can easily select a ring keeping in mind your would-be-partner likes and dislikes.
When it comes to marriage, gold rings are more preferred over other rings especially according to the tradition. However, the ring will demonstrate an elegant and stylish look when set with beautiful diamonds.
Some Popular Wedding Rings
White Gold Rings:  White gold bands are the perfect blend of simplicity, purity and sophistication. This type of gold ornaments is designed by combining pure gold with other metal like silver, platinum, etc.  The metal is soft and can be easily craved to create beautiful designs with complex details. White gold ornaments are than plated with rhodium to give them super bright and appealing look. This metal is durable and scratch-resistant which make it ideal for daily wear. White gold are incredible gift for wedding ceremony and even suitable for birthday, Valentine's Day, anniversary, and other special occasions.
Yellow Gold:  Yellow gold rings are the most glittering and dazzling ornaments with a light yellow color that creates appealing brightness. They are also very strong and durable and do not generally create rashes on the skin. Most of them look simple yet elegant and expensive. However, you can easily buy them within your budget. Because of these qualities, they are becoming highly popular amongst wedding couples.
Plain and Simple Gold rings:  Simple gold bands are the popular selections for wedding rings as they come in endless designs, styles and shapes for both men and women. They are study, scratch-resistant and need no special care for maintenance.  The best part is that they come in every price rage. Thus, you can select and buy them according to your taste and budget with ease.
Micro Pave rings: The micro pave rings are very presentable and attractive but very delicate kind of bands. They are generally encrusted with small diamond stones which make them more sophisticated and stylish to look at. These bands come in different designs and styles to choose from. There are high-priced and low-priced bands which all depend on diamonds and design of the ring itself. With this kind of band you need to be little careful in handing it.
Oval cut Halo Rings: If you are looking for a fancy cut diamond band with supreme brilliance, then Oval cut Halo Ring is the perfect march. It is a special kind of band in which the central diamond is bounded by an edge, usually but not always set with smaller size gemstones. The key purpose of this design is to emphasize the middle diamond. Today, the halo cut design is used by many famous craftsmen across the world to create bands with many different looks.
Eternity Diamond rings:  It is usually a gold band that is encrusted with diamond stones. The row of gemstones can go all around, half-round or three-quarters around the ring. The size of stones is usually same to give them a consistent finish. They look very appealing and attractive. This type of band is intended to act as an icon for never-ending love. It is a woman ring and most often given by a would-be husband on an engagement. There are many designs available in eternity style.
You can also go for a solitaire ring, colored stone ring, rose gold, three stone rings, cluster ring, or a signet ring as your wedding band.  The selection of a ring is completely depends upon your taste, personality, and budget.
Pick the Good Quality Wedding Ring
Regardless of the type that you go with, you should ensure quality of metal and stone before buying it.
Gold Color and Carat
When buying gold bands you have to consider two things that are carat and color. There are many bands for women and men having a pure gold of 6, 9, 14 and 18kt. If the quality of pure gold used in the accessory is high it will be more precious and costly. The amount of gold available in the band affects its level of harness. So make your decision accordingly.
Select the diamond by considering the Four c's
The Four C's of diamonds are Carat, Cut, Color and Clarity, and when taking these four factors into consideration it helps the buyer to discover the real value of the ornament he is about to purchase.
Carat: This is the medium in which the diamond stones are weighted. As the size of stone increases its carat value and price will also increase.
Cut: The cut of the diamond stone makes it a fine piece and its brightness and glitter depends mainly on the cut of the stone. Some international standards are followed while cutting this brilliant gemstone.
Color:  Though a diamond looks crystal clear, there are actually numerous colors in which it comes. Different colors of the stones have different values. For example yellow are has a less price than the blue and the black diamond.
Clarity:  It refers to the clarity of diamond. Although, all the diamonds have some imperfection, the more clarity grade it has the more valuable it will be.
Some Other Factors to Consider:-  
Trademark
When picking a band, looking only for carat is not enough at all. Also look for trademark sign that is etched into inside area of an ornament. This authenticates the seller as well as the place in which the product was designed.
Budget:-
Since fine and appealing ornament will need you to spend a good amount, you have to control as how much you are willing to spend. You have to keep in mind that numerous wedding bands available in the market are made out of different levels of karats and vary in prices. Although, the absolute best investment you can make is item designed from 24 karat gold, investing in 18k or 14k rings is not a bad idea when it comes to managing budget and picking the most appealing item.
Where to Shop:-
Now that you know the four C's of diamond you can set out and acquire the quality diamonds with ease. And with so many options available in the market today, you are sure to find a trendy piece to match your desires and pocket.
You can find a good range of wedding bands available in the market with local jewelers; however, if you are looking for something unique and trendy, then renowned Diamonds Dubai would be the best place for you.
The company has been selling an extensive variety of beautiful and trendy gold and diamond rings to the people at very reasonable rates since 1966. In their stock, they have 18 carat gold and diamond rings which you can buy for different occasions like wedding, engagement, anniversary etc. these rings are made from fine quality metal and are encrusted with good quality certified diamonds.  They also sell gold and diamond earrings, pendants, bracelets, bangles, and necklaces. They also have a good collection of beautiful and trendy watches that you can purchase at very reasonable rates.
The company also sells jewellery in other metals and gemstones like platinum etc.  You can explore its website to collect information about its Diamonds and Gold Jewellery Collection.  From their website, you can also collect updated information about top-rated products in just a few clicks of a mouse. You can, in fact, also use their online live chat assistance facility that they give 24/7 to their valued customers.
The icing on the cake is that the retailer has its own manufacturing units where they follow all the international standards while crafting ornaments. In fact, they deal with readymade as well as customized gold and diamond ornaments. Therefore, you can trust them without having any kind of harassed in the mind.
The best thing is that they give absolutely free shipping facility on all orders within USA and charge very minimal fees to deliver items out of UAE. Shipping fees are applicable and depends upon the area of delivery.
If you have any unanswered question or doubt in the mind regarding their products or shipping process, then you can approach to their representatives in multiple ways like online message by filling a short form available on the site, dropping a query mail, Skype, or Whatsapp. You can also directly speak to one of their representatives over the phone in the office hours to get answers of your queries. They will answer all your queries instantly.