Congratulations! You've decided to propose to your significant other and now the hunt for the perfect diamond engagement or wedding ring begins. But with so many diamond jewelry shops out there, how do you choose the right one?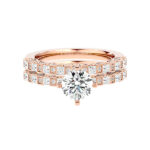 Here are some top tips to help you find the perfect engagement ring from top engagement ring shop.
Do your research: Before visiting any engagement ring shop, research the types of engagement rings available and their pricing. This will help you to determine your budget and give you an idea of what you want before stepping into the store.
Look for a reputable shop: Choose a diamond jewelry shop that has a good reputation in the market. You can ask for recommendations from friends and family or check online reviews.
Consider the ring style: Think about the style of the ring that your partner likes. Do they prefer a simple design or something more elaborate? Do they like traditional or modern styles? Consider their personal taste before making a final decision.
Quality of the diamond: The quality of the diamond is important when choosing an engagement ring. Look for diamonds that have been certified by a reputable gemological institute and have a high clarity and color grade.
Check for customization options: Many online wedding or engagement ring shops offer customization options, such as engraving or creating a custom design. Consider these options to make the diamond engagement ring more personal and unique.
Ask for warranty and return policies: It's important to understand the warranty and return policies of the engagement ring shop before making a purchase. Make sure you have a clear understanding of what is covered and what is not.
By following these top tips, you can find the perfect engagement ring from an online engagement ring shop Diamondsdubai, and make your proposal one that your partner will never forget.