There is no other precious stone like Diamond, because of it's sparkle and shiny characteristics it plays an important role in women's life as a best friend, however since last few years diamond prices have risen up to 30%.
Several Diamond companies have suspended their operation since the first lockdown. And so in early 2022, De Beers and Alrosa, the two largest mining companies, found themselves managing lower reserves and consequently increased rough diamond prices by 5 to 15%.
More than 85% of the world's available cut and polished diamonds are produced in India's Surat area, the largest cut diamond factory in the world, but the plague has clogged its machinery. Surat, including its satellite towns, has 6,000 polishing units operating at full capacity, employing around to 700,000 people, and making approximately €12 billion in annual sales.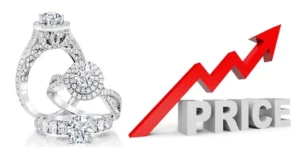 When India imposed quarantine restrictions, factory utilization fell to between 50 and 70 percent, migrant employees left, and the number of diamond processing activities decreased. Despite the reinstatement of orders, many workers have switched to other jobs in their home villages and have not yet come back to work. Unions assert that they have not received all of their earned salaries that are entitled to them.
Diamond prices could get stable by time and situation however the investment options for the diamonds is worth for the prices as loose stones as well for Jewelries.
you may also visit us on our facebook page or view our store reviews on our tripadvisor page