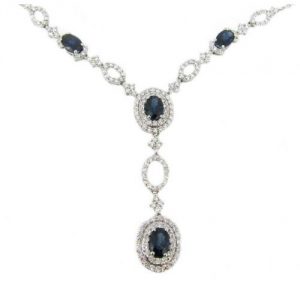 Diamond is one of the most precious stones that is truly adored by the majority of the people. Be it an engagement ring or big necklace, if the jewellery has a diamond in it, then its chances of looking magnificent truly reach another level. The beauty of a diamond is immaculate, that's why many people many people compare the beauty of a person with diamond also. It is one of the strongest elements that are hardest to break. East or west, diamond is the best. Gone were the days when only women used to adore diamonds and jewellery. Nowadays, men also love to wear and flaunt a diamond ring. So, if you are planning to surprise your better half on his birthday or your marriage anniversary or on any other occasion, then feel free to get your hands on the best diamonds for him. Break the stereotype and make your partner happy. Diamonds are not dependent on any sex or gender, you can give diamonds to both male and female. It is versatile and unique and inevitably a safe option for gifting. When you are giving diamonds, then you do not need to worry about whether the receiver will like it or not because usually, we all love diamonds. People truly love to admire, wear and flaunt diamonds. So, don't let the second thoughts to interfere while getting your hands on the diamond ornaments. If you are looking for the gifting ideas on the internet, then you can buy multistone necklaces. Multistone necklaces look breath-taking and graceful.
Nowadays, it becomes obligatory to pay attention to the authenticity of jewellery that consists of diamonds. Always buy certified diamond jewellery. It's quite easy to buy jewellery that has got a diamond certification in Dubai. Majority of the stores stress on selling the certified jewellery. A diamond certificate is also known as a diamond dossier. It is a formal document that consists of diamond's unique features such as its cut, carat, weight, colour, and clarity in a detailed manner. It is possible that it may also include its finish (polish and symmetry), fluorescence, and additional information. GIA (Gemological Institute of America) and EGL (European Gemological Laboratory) are the most trustworthy diamond grading laboratories that have got recognition. These are preferred by generally most famous and reliable jewellers of the whole world. Certification by a reliable diamond grading laboratory ensures that quality of the diamond is of the highest standard. It is an assurance of a diamond's quality and works as an evidence of its identity. Diamond grading laboratories are absolutely even-handed in their grading practices. If a diamond is classified by a laboratory, such as the GIA, EGL or SGL, an individual can be sure that the details specified on the diamond certificate is truthful, and that the diamond will not fall victim to exaggerated grading. But, have you ever thought what makes a diamond certificate so essential? In the absence of a certificate, it would be a nerve-wracking task to prove your diamond's unique features and identity. If you do not have the certificate, then it would become obligatory for you to send it for independent testing in order to establish its grading. But, if you have a certified diamond, then no testing is required. The certificate also plays a significant role in the procedure of evaluation, as a proficient expert look out for the data on this certificate in order to conclude the financial worth of your diamond (both for insurance purposes and in the case of a re-sell). The certificate will be present as a proof and give you a peace of mind because it will show its originality. Let's take an instance when you purchase a house, you obtain title deeds. A diamond is also similar to that process, it is certainly no different. Certification is also imperative because it acts as strong evidence to the purchaser when buying a diamond. A sales representative will demonstrate the diamond certificate to the purchaser when the diamond is being observed, in order to verify that the diamond that is about to get sold has the grading on its price tag. It is significant to know what every one of the fundamentals on the certificate stands for. If you are dubious about anything, don't hesitate to ask the sales executive to explain it to you. Don't shy away from asking questions related to jewellery. When purchasing a certified diamond from a reputable outlet, you will definitely obtain an original diamond grading certificate which reflects your diamond's unique physiognomies that are the 4Cs. Understanding the importance of a diamond certificate will surely cut down the risk of non-reputable seller gaining the advantage of a buyer's ignorance. Not everyone is about every detail that is required to be noticed when purchasing diamond jewellery so a certificate is a proof of realism. A trustworthy seller will always provide jewellery with a certificate. In order to gain a certificate, the diamond is sent away to diamond grading laboratory for gaining its appropriate evaluation. The gemmologists at the laboratory will grade every diamond in regulated environments to make sure that the evaluation is unbiased.
TYPES OF CERTIFICATION
Before being graded, many diamonds are sent to a diamond grading laboratory for a brief evaluation. This entire process is called a certification. A reliable laboratory is equipped with professional gemmologists who have got specialisation in diamond grading. Diamond grading is done under special circumstances, utilising the latest technology, to make sure that the 4Cs are assessed accurately. Every diamond certificate has a different number on it which resembles one particular diamond. One certification is accomplished, the diamond and its certificate are ready to sell. The certificate is an assurance to the buyers that the diamond they are purchasing truly has the flawless characteristics. So, let's throw light on the types of certificates:
GIA- Gemological Institute of America
Every diamond categorised by the GIA is inspected by at least four highly skilled and knowledgeable gemmologists. To make sure the procedure is entirely unprejudiced, diamonds are unsystematically allotted to graders. Every single diamond graded by the GIA is going along with a GIA Grading Report. This report consists the various details regarding the diamond's 4Cs (cut, colour, clarity and carat weight), as well as a bit information on the stone's polish and symmetry, and fluorescence. Most frequently the report also encompasses an illustration of the diamond which specifies clarity physiognomies, a proportion diagram and GIA grading scales. The GIA has classified and certified some of the diamonds that have got immense fame in the whole world, such as- the Centenary Diamond and the Hope Diamond. Their headquarters are located in California, USA, but the GIA functions out of 13 different nations, such as New York, Hong Kong and Moscow, and few more. The GIA's only objective is to safeguard shoppers and merchants of diamonds and other gemstones. By making and maintain a pace with the principles that are used to estimate gemstones, the GIA is a reliable origin of facts for consumers and retailers globally.
EGL- European Gemological Laboratory
In 1974, The European Gemological Laboratory, or EGL, was established in Europe. A worldwide trustworthy administration, the EGL has headquarters all over the world and is dedicated to rendering authentic and trustworthy analysis valuations. They have got recognition for having advanced grading practices for diamonds weighing less than one carat, and for presenting the SI3 clarity rating for diamonds. When numerous laboratory-created diamonds have started to make their presence in the market, the EGL lead the way for l-grown diamond identification. It was the first organisation that has alerted the public that chemical vapour deposition lab-grown diamonds and high pressure, high temperature (HPHT) treated and coloured diamonds were being retailed. The EGL thrives upon conducting research and proceeding the knowledge based on diamonds and gems. Just like GIA, the EGL's grading certificate also equips you with an all-inclusive list of a gem's features. It encompasses the 4Cs, fluorescence, measurements and proportions. It also takes care of the symmetry and cut. 
SGL- Scientific Gemological Laboratory
Scientific Gemological Laboratory is an abbreviation of SGL. It comprises the newest scientific extents by utilising ground-breaking contemporary technology in grading diamonds. The diamonds have been examined as per the standards that are accepted internationally. The SGL report comprehends the identification and features of a diamond that consists of the shape, carat weight, colour, clarity and cut. The latest technologically forward-thinking approaches and state-of-the-art equipment is taken in use to examine and record diamond details.
When observing a diamond, always make sure to inquire the sales representative to display the diamond certificate. If the diamond has been graded by the GIA, EGL or SGL, and is sold by a respectable jeweller, then you don't need to stress whether the diamond's specifications is true to the specifications on its label. Always keep your diamond certificate in a safe place. It is a very vital document to have for insurance and appraisal purposes.