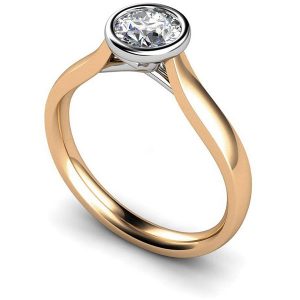 While buying a diamond, usually people pay keen attention on various factors such as color, clarity, carat weight, and cut grade of a gem in order to get most out of their investment. However, they never consider their body type while selecting a diamond for them. Because, they think that it is amongst the least important factors that they should pay heed at while making the purchase. Though, buying a gemstone that enhances their personality or accentuates their looks is equally important and you must consider this fact at the time of purchase as diamonds don't come cheap. Hence, in this blog, you will read about how to select designer diamond jewelry as per your body type. Keep the information given below in mind as it is equally important as 4C's of a diamond.
An outfit is incomplete without a right set of jewelry; hence, choosing ornaments right will not only accentuate your outfit's beauty but also it enhances your facial appearance closely. So, let's check out following facts while purchasing diamonds:
How to Select Diamond Earrings?
Oval Face: If you have an oval face then you can get your hands on anything from Drops and dangles to studs and chandeliers. Oval faces are narrower at the chin area and hence they can pull-off any size and shape of diamond earrings. However, if you go for a triangular shaped earring or a stud, then, it will accentuate your features impressively.
Round Face: circular face with fuller cheeks will look stunning with a pair of long, drop diamond earrings as it will give your face slimmer look. You should avoid wearing ear ornaments that will highlight the chubbiness of your face. This means that you should stay away from hoop earrings, fancy circular earring styles, and button studs. Instead of that, you can buy drop earrings but make sure that they don't have dangling circular discs.
Square Face: face is called square shaped when he difference between forehead, cheeks, and jaw line is similar. So, the take home advice is that select an earring at an online store for branded jewelry in Dubai that doesn't sharpen the already sharp edges of your face. Instead of that you should go crazy for designs that soften these sharp edges of your look. So, oval and circular shaped earrings are made just for you. Though, earrings with medium to long length and rounded edges will look extremely beautiful on your face.
Heart-Shaped Face: if your face narrows down towards the chin and you have a broader forehead than your cheeks then you have a heart-shaped face. Whatever that draws attention to the lower part of your face will look great on you as it will strike a balance between broader forehead and narrower chin area of your face. Tear-drop styles and chandeliers will work best for you. However, you should never pair your looks with an inverted triangle-shaped earring as they will shake off the balance.
As we all know that women and fine jewelry go hand in hand, how can you forget about a beautiful diamond ring that is simply irresistible? What, if you get a chance to have a custom designed ring for you? Well, this will definitely be a cherry on the cake! So, the next part of this post will help you create your own diamond ring.
A ring that is made accurately as per your vision is, no, doubt, incredibly romantic. But, at the same time, it is an expensive affair that involves a lot of money. Before opting for a custom-made ring, think twice about going to this route. And if you think that a custom designed diamond ring is the right choice for you and you can afford it, go ahead with the following informative considerations that you should think through while creating that head-turning diamond ring for you.
Know Your Budget
Before you start imagining a stunning diamond ring style, first consider your budget. Once you have set your budget, then combining the 4C's of a gem under this limit will become extremely easy for you. As you already know that 4C's – carat, cut, color, and clarity – are the most important characteristics of a diamond that also impacts its price greatly, having a budget limit will let you choose the best combination of these four features in a diamond that is true worth of your money.
Center Stone that Steals the Show
It is the center stone that draws all the attraction from people. The center stone that draws admiring gaze of everyone you come in contact with. So, you should choose the shape and cut of your stone with lots of deliberation. This is also the most important decision because a custom made diamond engagement ring is a milestone purchase in your life. Choosing a right diamond shape and cut is also essential as it will influence the entire look of a setting/style that you opt for your engagement band.
Fix a meeting with your jeweler to discuss about a custom design. Explore many options until you find a particular shape, cut, or style that steals your heart. Then, start working with it.
Consider your Taste
Design your own diamond ring via keeping your preferences in mind. Don't let anybody intimidate you with a design that is based on their personal preferences in terms of shape and cut of the gem and design or style f the ring. Though, there are some timeless designs are available like round diamond solitaire ring that go with everything o wear, designing a one-of-a-kind bespoke diamond band is an exceptional experience. This becomes more significant considering the fact that you cannot return a custom-made ring that is made just for you. Hence, take your time, ponder on all the facts described above and then put your best foot forward.
What does Bespoke Mean?
When you are involved in creating a diamond ring from scratch – right from imagining a design and choosing a hand cast mold to working with your jeweler to create a ring precisely according to your imaginations then you create something that is called a bespoke design.
Since, this sort of request needs time to research your design, contemplate all the aspects related to a custom design and think that how it would look practically, and then design custom tools and molds that aid in replicating what you have envisioned – a bespoke diamond band costs big bucks. However, to save some money on your custom band, you and opt for pre set design instead of one off ring. You will still be able to personalize your choice with the type of metal and diamond cut or shape while designing your bespoke diamond band.
How to Create a Custom Look at Low Price
Go for the cut paste method if you want to work with a cost effective plan. This means that contact a reputed jeweler for his/her repository and select different elements from their pre-existing styles to combine them all into one bespoke design. This way, your band will look unique.
While reviewing a jeweler's different options and imagining how you can mix and match different design elements to create the look of your band you desire for start with the head of the ring, i.e. center stone setting. Choose from halo/clean, prong-set or unadorned bezel designs or combine all three settings in one ring. You can experiment with the color of the metal, number and style of the prongs. You can even choose the color of your signature gem to give your diamond band more personalized touch. In other words, there are multiple ways to customize your band for less.
Then, you can have your bespoke diamond ring in many forms such as thick, super slim, knife-edged, wide, tapered, engraved, shiny, or brushed forms. O, basically possibilities for personification are simply endless.
Since, all he design elements that you choose for your unique band from a designer's repository, are pre-existing styles, a jeweler doesn't have to spend a considerable amount of time to do research on design and to develop specialized tools to create a design as per your visions, your ring costs less than a one-off design.
With a little variation in each of the elements, you can simply create a classical design that is unique and personal to you. However, you must have style sense in order to be able to create bespoke diamond band for you that not only accentuates your body type but also it goes with everything. Another important pint here is that you should always buy your branded jewelry in Dubai at a renowned and experienced jeweler so that they can handle your project smartly.
There are a number of jewelry designers are available on the internet. You can select one of them for your project. You can also contact a well-celebrated designer at one of the local stores and seek their expertise for creating a custom made diamond ring for you. Hope, this blog post could be of great use to you.